In pedantic mode today.

I've had several interesting "situations" with visiting Ladies.


Although some Ladies and Agents have assured me many more incidents happen during Escort-dates, I have not yet had visiting Ladies throw up, fall ill or run out naked - yet. And I have yet to have "That Lady" go down and tease the hotel-bartender in her dress-up uniform (but we might try that one day, your Pictures with "that" uniform looked Delicious).

I did have had one occasion where a bare-breasted lady drew the niche curtain and waved to the driver across the street. I managed to pull her away in a loving embrace, and told her how naughty initiatives like that made her even more desireable. She took that very well, laughing out loud to wake up the neighbours. She was good, naughty and cheeky, but Very Good.

Some of the funny-incidents I had made me compile the text below. There are some pedentic tips (not quite hidden) in the list.

1. Please don't rush out to pay the driver.

I have no way of knowing you will come back, and hotel-reception will wonder ...
It has happened twice, once in UK and once in another country. The UK girl was rather nervous, grabbed the enve$ope and rushed out, mumbling something about driver not willing to wait. I was speechless. But she did come back. The date went ok, but a bit rusty. Girl has supposedly left the industry.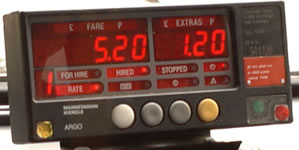 The other Lady managed to explain she had to pay the Taxi, and apologized long-ish (time was ticking?....). She agreed to leave with double the taxi-amount she quoted, and she too, came back. [picture: taxi meter]

I handed her the envelope with the remaining amount, which she never counted, and she delivered a brilliant service for the rest of the date. Her language-skills seemed to improve during the date, and We had a good laff afterwards. We overran substantially, indicating that the driver was either gone or in no hurry.
All is well that ends Well...


2. Bring essential items.

This was One Georgeous model-grade Beauty of a woman, Very good looking, with excellently shaped GG (enhanced) assets.
True blonde: she miscounted first time, had to re-count. Slowly..
She then managed to stay in chat-mode for a considerable time, managed to avoid any kissing, and insisted on giving a massage (not my thingy, but she was better then average at erotic massage. It took her 5 min to show me how her massage was better then average - Subtle and Very Exciting).

She also must have realized I was enjoying the view of her cleavage. She started rubbing herself and she seemed to get quite hot. She was Ready for it. Her hands, her eye-contact, her attitude and her breathing got me right to the edge. Then she stopped. And after 2 sec of ruffling through ther bag, she (routinely) concluded she had no condoms and had to go to ther car to get them (the practical one-piece-dress was back on before she had finished the senctence...).

Alarmbells.

I quickly produced some Durexes (hey, I come prepared!), and she reluctantly agreed to use mine (risk of allergies, rash, foreign quality rubber, size-objections ....)

I was still in luck, the date was not over yet. Which brings me to the next item


3. Practice and Perfect your Acting.

A horny companion is a Great Turnon for a man.And the same stunner who forgot the condoms was indeed a good actress.


Despite the intermezzo with the "forgotton rubber" she was still very good. Once convinced of my Durex, she put it on the tool, and she quickly monted on top. I sort-of noticed that she kept her feet flat on the bed, legs bent to stay in full control (ready to hop out).

But I was too excited.
And she kept up the show: Good movements, breathing noises (none of this pretended-dirty-talking, just very convincing breathing and some good, soft moans). And best of all: her experienced intimiate-muscle-action. It all made me come in less then 5 min. [image of booby-lady in extasy]

We were then 25 min into the date (now who is the clockwatcher?).

Her Expert acting, her lovingly executed touches, her offering-of-cleavage-view, all her movements, her complete Surrender to an impending Orgasm...

It all stopped the very moment I came.
Less then 1 min later she was out.
With an envelope that contained the full 1 hr fee (she had counted it, slowly, feigning a mistake, so she could count it twice...).

Her loud protestations, standing in the open doorway, half in the hotel corridor, were along the lines of "if you had wanted multiple orgasms you should have said so on the phone" and "I have a few more lined up to tonight you know".
Gone in less then 30 min.

The review never went online (no worries: it wasnt in the NE).

The sequel: mybook contains many more anecdotes, and some of those made it into outcall-tips-the-sequel...